Alejandro Thornto Argentina, 1970

Graduated at the National School of Fine Arts "Prilidiano Pueyrredón", Thornton is one of the emerging artists of the 2000 generation of Buenos Aires. With a production which covers both painting as well as graphic, visual poetry and interventions, his work moves easily between neo-expressionism and neo-pop.

In recent works, Thornton develops from different concepts: identity, repetition and simulation, these concepts are today questioned by those changes generated by mass media, virtual reality, clonation and robotic. Made on the basis of repetitions and plays, his works have never ceased to pose a challenge to the retina or to question the concept of expression and the expression of the concept, a pleasant nuisance where many of the problems of the contemporary painting are subtly at stake.

Among his solo show the following are outstanding: "Faces" at Angel Guido Art Project and "Forever" Draws at Elsi del Rio both in 2008; "Hi" at Matthei Gallery (Chile) and "Kylie"/Draws at Crimson Gallery both also in 2007 and "I will not be your mirror" (2004) and "Welcome to me" (2000) both at Pabellón4 Contemporary Art. In addition, he has been selected in important awards and biennials both in Argentina as well foreign countries, such as: III National Award UADE University, Metropolitan Museum of Buenos Aires. First Venezuela International Art Biennial, Arteamericas07, The Latin American Art Fair, Miami (USA); National Award Central Bank; Bahia Blanca National Biennial, Museum of Contemporary Art; XII Biennial Guadalupana (Mexico); International Prints Tokyo 07, Sakima Art Museum (Japan); "Cubo Project", Pabellon4 Contemporary Art; Platt National Award for Visual Arts, Rioplatense Award for Visual Arts, Osde Foundation, Patagonia-Arte Foundation Award for Young Artist; 1st International Turkish Art Biennial, (S:L:K) Scents:Locks:Kisses, Z33 Art Center (Belgic); Hebraica Foundation Award for Young Artist; III Iberoamerican Award Aerolineas Argentinas Foundation; Palermo University Award, National Museum of Fine Arts; VIII Visual Poetry International Meeting C.C. Recoleta; Mc Donnals-Palais de Glace Awards for Young Artist; XLVII National Fine Arts Award, Sivori Museum; National Fine Arts Academy Award, Sivori Museum; "Prilidiano Pueyrredón 98' Awards, Borges Art Center; II Klemm Fundation Award.

///

Alejandro Thornton (Argentina, 1970).

Graduado en la Escuela Nacional de Bellas Artes, Thornton es uno de los artistas destacados de la generación emergente en los años 2000 en Buenos Aires. Con una producción que aborda tanto el lenguaje pictórico, como la gráfica, la poesía visual y las intervenciones, su obra se mueve cómodamente entre el neoexpresionismo y el Neo-pop.

En sus obras recientes Thornton trabaja a partir de los conceptos de identidad, repetición y simulación, conceptos hoy cuestionados a partir de los cambios generados por los mass media, la realidad virtual, la clonación y la robótica. Hecha de repeticiones y de juegos, sus obras no han dejado nunca de constituir un desafió para la retina ni de preguntarse por el concepto de la expresión y la expresión del concepto, lugar donde se juegan sutilmente muchos de los problemas de la pintura contemporánea.

Entre sus exposiciones individuales se destacan: "Rostros" en Angel Guido Art Project y "Forever" en Elsi del Río ambas 2008; "Hi" en la Galería Matthei (Chile) y "Kylie" en Crimson durante el 2007 y "I will not be your mirror" (2006) y "Welcome to me" (2004) ambas en Pabellón4 Arte Contemporáneo. Ha sido seleccionado en importantes premios y bienales tanto en Argentina como en el exterior entre los que podemos citar el Premio Nacional de Pintura Banco Central, Premio Nacional UADE de Pintura, Arteaméricas 07, The Latin American Art Fair (Miami), Bienal Nacional De Bahía Blanca, 1er. Bienal Internacional de Venezuela, XII Bienal Guadalupana (México), International Prints Tokyo 07, Sakima Art Museum (Japón); Proyecto Cubo, Pabellon4; Premios Platt a las Artes Visuales, Premio Rioplatense a las Artes Visuales, Fundación OSDE, Premio Arte joven Fundación Patagonia-Arte, First Internacional Turkish Art Biennial (Turquia), Premio Hebraica para Jóvenes Pintores; Certamen Iberoamericano de Pintura Aerolíneas Argentinas, Premio Universidad de Palermo / Museo Nacional de Bellas Artes, Premios McDonnals a Jóvenes Pintores, XLVII Salón Nacional de Artes Visuales, Premio Estímulo de la Academia Nacional de Bellas Artes, Premio Prilidiano Pueyrredón 98, Premio Fundación Klemm.



Life, Liberty, Property (Triptych) 2020
Giclee print on Epson paper Somerset Velvet, 255gr.
Impresión giclee en papel Epson Somerset Velvet, 255gr.
60 x 80 cm c/u - 30 x 40 cm c/u Ed 5 +2 AP



Serie - Pho-ethics

The works presented is part of the "Phoetics series" where I have been working around the photographic image, the video and the word. These works place their field of action in the territory of experimental poetry through the appropriation, intervention and re-meaning of images and language. In their different devices, the works emphasize a type of communication that we can identify as paragrammatical and that does not necessarily depend on logical verbal thought but is activated through verbal and visual associations and dissociations; looking for unexpected and implicit meanings arise that modify the reading / observation levels contributing new ways of thinking.

Today we could say that the time of the "Revolution" (as we understood it in the 20th century) seems to have ended. Not so the desire and the current urgency of social transformation. But the new practices of change cannot be developed within the framework of the old ideas of revolution.

A new reference imaginary is necessary. A new constellation. Other images of change, commitment, conflict, organization, antagonism, etc. These pieces tries to enroll within that line. Images for a revolution that does not seek to take over a center (center of power, center of knowledge), but neither install itself on the margins or the periphery, but blur the difference between the two, for a people that no longer seeks to govern or be governed , but to become and remain ungovernable.

Serie Pho-éticas
Los trabajos presentados forman parte de la "serie Foética" donde he estado trabajando en torno a la imagen fotográfica, el vídeo y la palabra. Estas obras sitúan su campo de acción en el territorio de la poesía experimental a través de la apropiación, intervención y resignificación de las imágenes y el lenguaje. En sus diferentes dispositivos, las obras enfatizan un tipo de comunicación que podemos identificar como paragramática y que no depende necesariamente del pensamiento lógico verbal sino que se activa a través de asociaciones y disociaciones verbales y visuales; buscando significados inesperados e implícitos que modifican los niveles de lectura/observación aportando nuevas formas de pensar.

Hoy podríamos decir que el tiempo de la "Revolución" (tal como la entendíamos en el siglo XX) parece haber terminado. No así el deseo y la urgencia actual de transformación social. Pero las nuevas prácticas de cambio no pueden desarrollarse en el marco de las viejas ideas de revolución.

Es necesario un nuevo imaginario de referencia. Una nueva constelación. Otras imágenes de cambio, compromiso, conflicto, organización, antagonismo, etc. Estas piezas intentan inscribirse en esa línea. Imágenes para una revolución que no busca tomar un centro (centro de poder, centro de conocimiento), pero tampoco instalarse en los márgenes o en la periferia, sino desdibujar la diferencia entre ambos, para un pueblo que ya no busca gobernar o ser gobernado, sino volverse y permanecer ingobernable.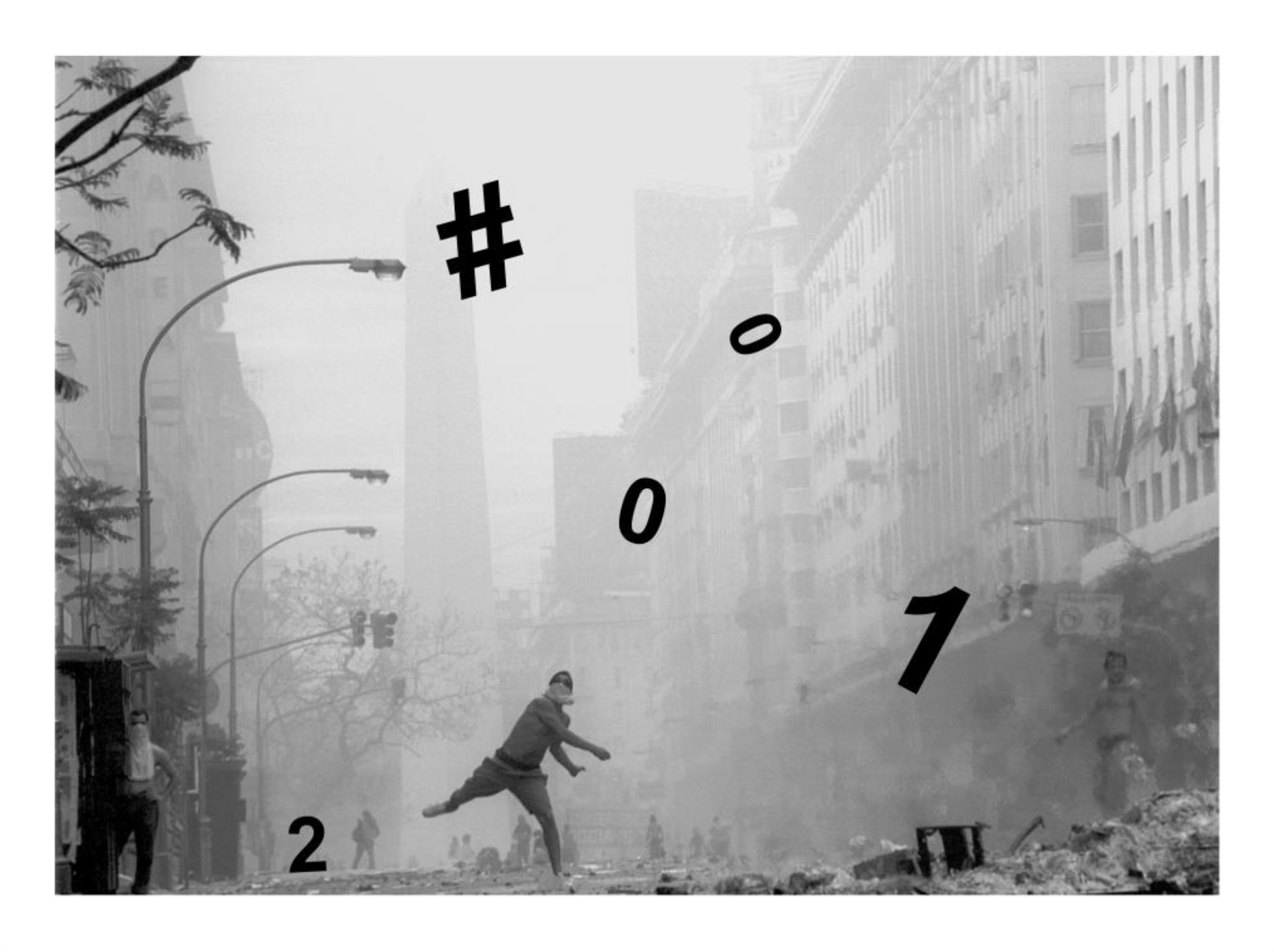 5 #, 2021
Giclee print on Epson paper Somerset Velvet, 255gr.
Impresión giclee en papel Epson Somerset Velvet, 255gr.
60 x 80 cm c/u - 30 x 40 cm c/u Ed 5 +2 AP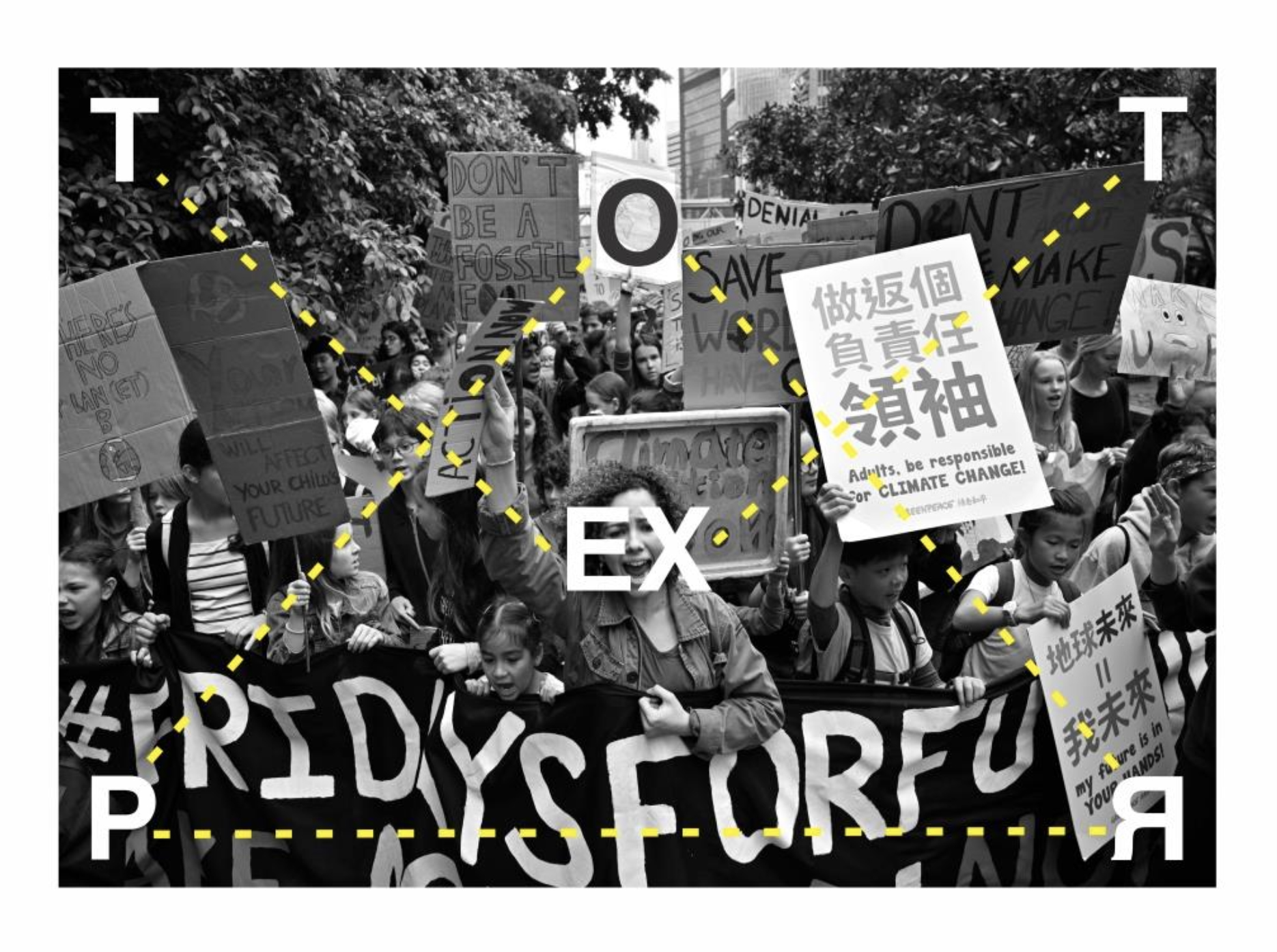 Protext, 2019
Giclee print on Epson paper Somerset Velvet, 255gr.
Impresión giclee en papel Epson Somerset Velvet, 255gr.
60 x 80 cm c/u - 30 x 40 cm c/u Ed 5 +2 AP