Hugo Vidal, Argentina, 1956

Hugo Rene Vidal / Lincoln, B A. Argentina. (1956) Architect National University of La Plata.
He has had exhibitions in Muntref. Hotel of immigrants. Bs As. Curator Barbara Cassin (France) and Mariana Aguerre. (Argentina) - Cardinal memories. Edition of artist's book, graphic action record. Eden Bastida Kullick and H Vidal. Edited by the Design and Arts Department of UNAM, Mexico. RetraSZando networks, meeting of artists and cultural managers. Reina Sofia Museum. Museums in network. Madrid. Spain.
FRAC Regional Fund for Contemporary Art. France. Work of the collection.
2016 Makin use. Life in postartistic times. Museum of Modern Art in Warsaw. Poland. Appearance in light. Intervention on a luminous poster. In 2013 The brightness of your eyes. National Human Rights Institution, Intervention with Cristina Piffer and Clemente Padin. Montevideo, Uruguay.
A museum of contemporary art. Collective: H. Zabala. P. Siquier. C. Piffer. R. Basbaun. T Sagastizabal. D Garcia. To Herrero. H Vidal. National Fund for the Arts. The spark that sets the plain on fire. Center for Contemporary Art. Quito. Ecuador. Installed at the Monnaie de Paris, a project by John Baldessari. Collaborators: Stephen Wright and Mabel Tapia.
III Ibero-American Biennial of Lima. Peru. Curator: Marcelo Pacheco.
His works form; part of the following collections: TAILS. Regional Fund for Contemporary Art. France, Luz and Mauro Herlitzka Collection. Buenos Aires, Collection of Francis R Mariño. Saint Paul. Brazil, Micromuseo, by Gustavo Buntinx. Peru, And other private collections in Buenos Aires.

Hugo Rene Vidal / Lincoln, B A. Argentina. (1956) Arquitecto Universidad Nacional de La Plata.
Ha realizado exposiciones en Muntref. Hotel de inmigrantes. Bs As. La comisaria Barbara Cassin (Francia) y Mariana Aguerre. (Argentina) - Recuerdos cardinales. Edición de libro de artista, registro de acción gráfica. Eden Bastida Kullick y H Vidal. Editado por el Departamento de Diseño y Artes de la UNAM, México. Redes RetraSZando, encuentro de artistas y gestores culturales. Museo Reina Sofía. Museos en red. Madrid. España.
Fondo Regional FRAC de Arte Contemporáneo. Francia. Obra de la colección.
2016 Makin uso. La vida en tiempos postartísticos. Museo de Arte Moderno de Varsovia. Polonia. Apariencia a la luz. Intervención sobre un cartel luminoso. En 2013 El brillo de tus ojos. Institución Nacional de Derechos Humanos, Intervención con Cristina Piffer y Clemente Padin. Montevideo, Uruguay.
Un museo de arte contemporáneo. Colectivo: H. Zabala. P. Siquier. C. Piffer. R. Basbaun. T Sagastizábal. D García. A Herrero. H Vidal. Fondo Nacional de las Artes. La chispa que prende fuego a la llanura. Centro de Arte Contemporáneo. Quito. Ecuador. Instalado en la Monnaie de Paris, proyecto de John Baldessari. Colaboradores: Stephen Wright y Mabel Tapia.
III Bienal Iberoamericana de Lima. Perú. Comisario: Marcelo Pacheco.
Sus obras forman; parte de las siguientes colecciones: COLAS. Fondo Regional de Arte Contemporáneo. Colección Francia, Luz y Mauro Herlitzka. Buenos Aires, Colección de Francis R Mariño. San Pablo. Brasil, Micromuseo, de Gustavo Buntinx. Perú, y otras colecciones privadas en Buenos Aires.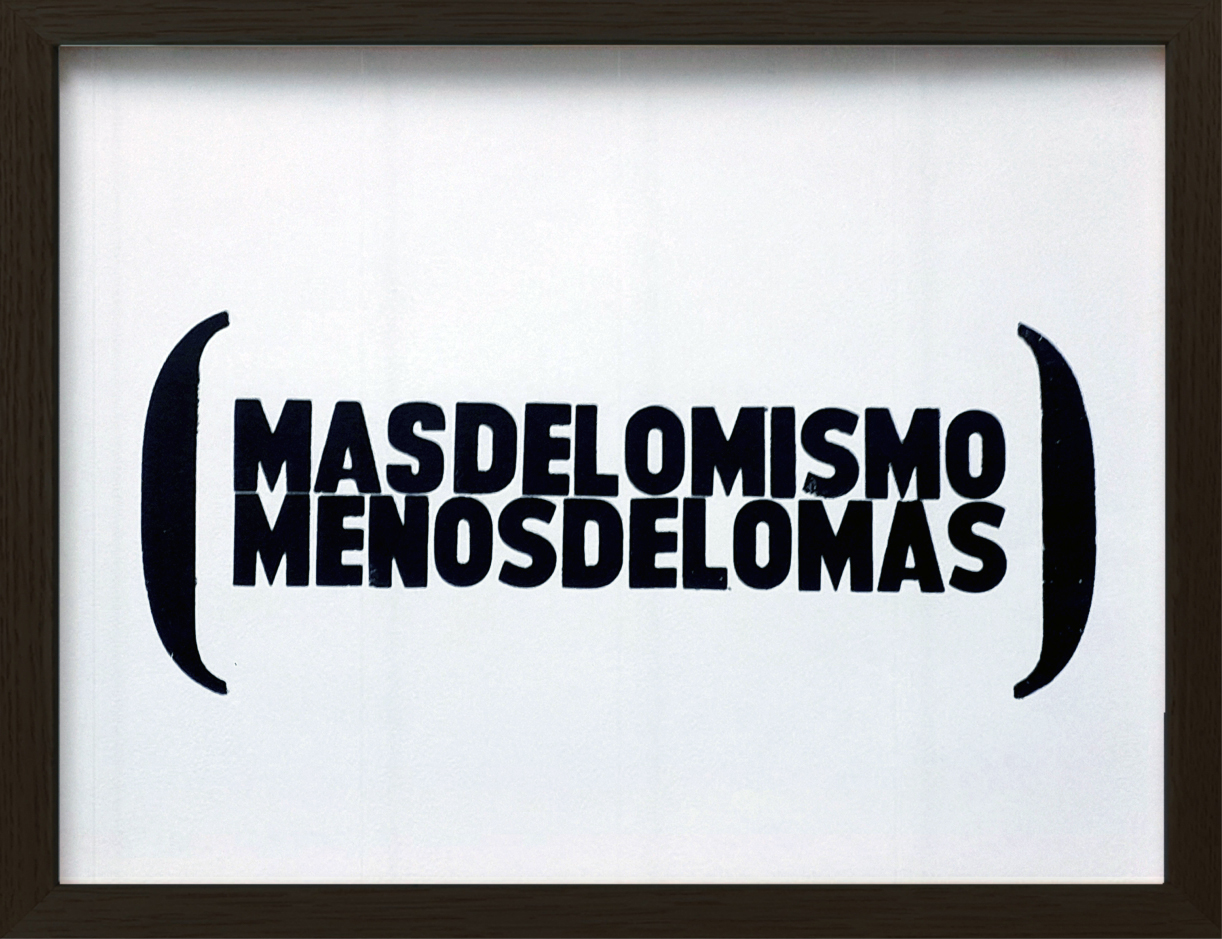 More of the same less of the more / Mas de los mismo menos de los mas, 2018
Letterpress printing on boned bookcel paper
I composed and printed in black magic, silver, bs as well.
30 x 42 cm


Hugo Vidal built a significant body of work that combines photography, objects, installations, interventions, digital works and performances. The artist deployed his discourses without obeying the
orthodoxy of any discipline and always looking for the best speaking support for his narratives: concentrating on some symbolic obsession around the different forms of power and resistance around its local and international icons.
Marcelo Pacheco

Hugo Vidal (1956) ha construido un cuerpo de obra significativo combinando fotografías, objetos, instalaciones, intervenciones, obras digitales y performances. Sin obedecer a la ortodoxia de ninguna de las disciplinas y buscando siempre el mejor soporte parlante para sus narraciones, el artista ha desplegado sus discursos ( uno y múltiple en sus pliegues y repliegues), concentrándose en algunas
obsesiones simbólicas alrededor de las formas del poder y de las resistencias, alrededor de sus iconos locales e internacionales.
Marcelo Pacheco




Embezzlement is not poetry / Malversación no es poesía, 2018
Letterpress printing on boned bookcel paper
I composed and printed in black magic, silver, bs as well.
30 x 42 cm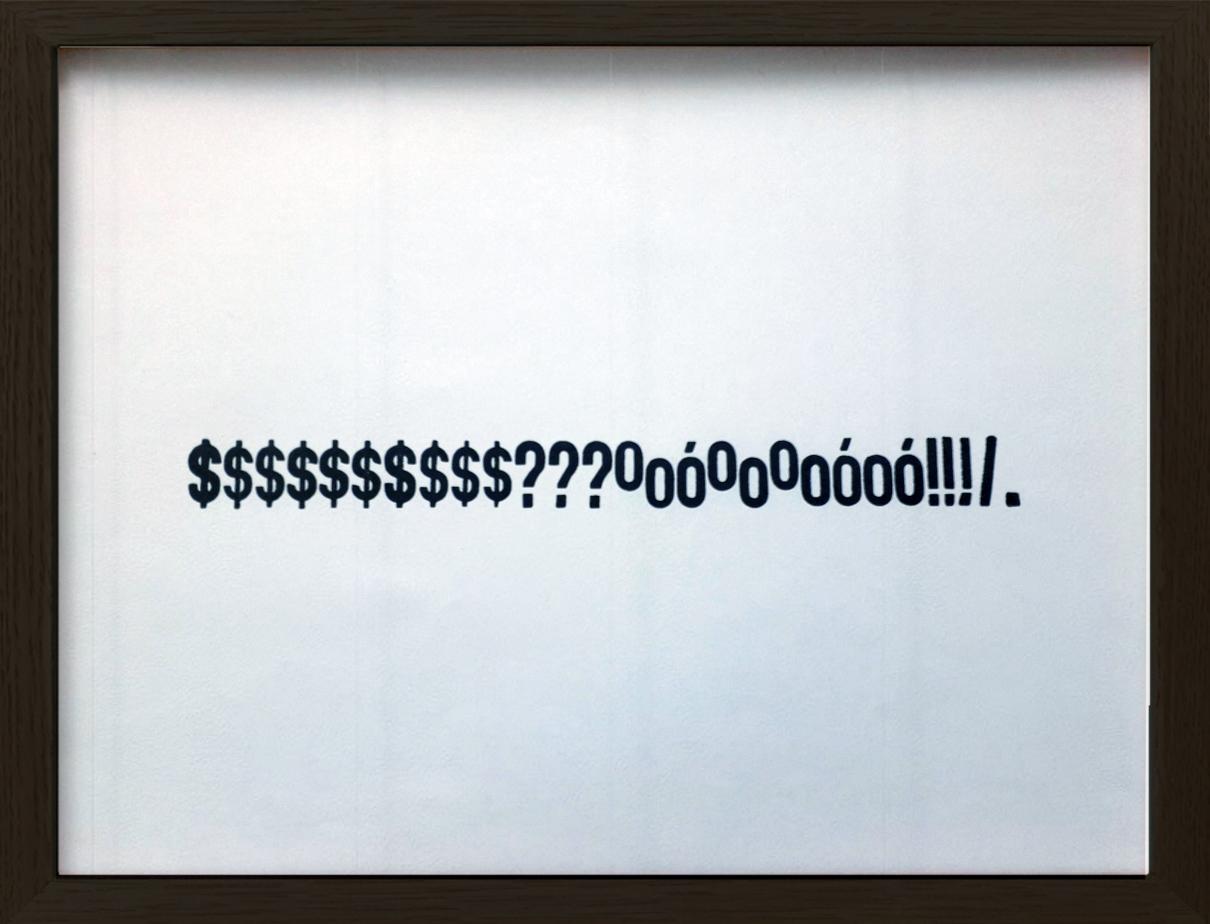 $$$???000 , 2018
Letterpress printing on boned bookcel paper
I composed and printed in black magic, silver, bs as well.
30 x 42 cm





EcoNOmy / EcoNOmia , 2018
Letterpress printing on boned bookcel paper
I composed and printed in black magic, silver, bs as well.
30 x 42 cm



Paper Money / Argentina Series: papers and ink

The paper money is a space where a many variety of forgeries, misappropriations and displacements of meaning take place.
It express the monetary value and the one that was stated at the optimistic moment of its first edition. In Argentina it happens that the stated value ceases to be such due to inflation, devaluation or international trade disputes that alter regional economies.
In this moment the statement is denounced and the balance is always insufficient for the majority.
This operation aims to challenge what paper money is and not use it only as a means to circulate a message. Find another circulating.
The successive devaluation processes of our currency had raise a question... does a devaluation on a symbolic level also take place?



Paper Money / International Series: paper and ink
Series of intervened bills
20 x 12 cm Each one




A simple bill exposes the historical circumstances, which are at play, valued and overrated narratives. It also omits, thus expressing the relations of power. Paper icons trying iconomies. Sensible geometrics can be seen as an excel spreadsheets. Political pesos demand their freedom. Poetic prisoners and preys claims freedom. In addition all this happens in an unsettle circulation of images printed on a wide variety of paper money.

freedom to the weights, yes to the political weights.
freedom to poetic prey. These phrases interest me because of the resulting confusion, it generates situations of ambiguity, critical irony and hopefully an attempt to recover some persistent residual value spectrum, some other remaining conceptual value.
In the case of the 50,000 cruzeiros note, I quote geometries from Oiticica to point out the devaluation insinuated in the design of the figure.
The dollar is undoubtedly an icon, Guevara is an icon, with which he tries to empower the banknote.
The Chilean worker is the only one that was printed on paper money in all of Latin America.
Gabriela Mistral, poet and anti-dictator feminist, however edited by Pinochet, as she had received the Nobel Prize.
Zapata, the bill was withdrawn from circulation shortly after the ezln emerged.


libertad a los pesos, si a los pesos políticos.
libertad a las presas poéticas. Estas frases me interesan por la confusión resultante, genera situaciones de ambiguedad, ironía crítica y ojalá un intento de recuperación de algún espectro de valor residual persistente, algún otro valor conceptual remanente.
En el caso del billete de 50.000 cruzeiros cito geometrías de Oiticica para señalar la devaluación insinuada en el diseño de la cifra.
El dólar sin dudas es un ícono, Guevara es un ícono, con el que se intenta empoderar el billete.
El obrero chileno, es el único que fuera impreso en papel moneda en toda américa latina.
Gabriela Mistral, poeta y feminista antidictatorial, sin embargo editada por Pinochet, pues había recibido el Premio Nobel.
Zapata, el billete fue retirado de circulación al poco tiempo que surgiera el ezln.