Judith Romero Orizaba, Veracruz, 1976.

Lives and works in Oaxaca, Mexico. Photographer and editorial designer. Founder of the photography gallery"Resplandor", which she runs since 2015. Judith has designed books specialized in art, literature, social research and photography as well as several collections of books for academic institutions. She graduated from the Benito Juarez Autonomous University of Oaxaca, has taken many workshops and courses in photography and digital printing at the San Agustin Etla Fine Arts Center and at the Manuel Alvarez Bravo Photographic Center (CFMAB) in Oaxaca city.
Her documentary photography explores, from a feministic perspective, aspects related to the human body, identities and the decisions (political ones) that comen assume in front of the social mandates. In addition, she builds in diverse scenarios and contexts, contemporary images which resemble complex realities and imagination. Some of her series are: Other women, the decision not to have children; bio-nudity; Passenger in transit; un-overcoming opacity; Intersections (photography and fabric); Communitarian polaroids and us women: narratives for the future , among others.
Her photographic work has been included in books and publishings like: Being a woman in latin America (UAM 2018), Relicarios: The Forgotten Jewels of Latin America (SF Designs / Fresco Books, 2020); Loïe. Dance, performance and new media. Video dance International festival in Argentina (2020); Women. Photography International Festival FOTOMéxico (Centro de la Imagen-CONACULTA, 2019); Latitudes. Photography International Festival FOTOMéxico (Centro de la Imagen-CONACULTA, 2017); ATLAS/Photography and Image in Latin America (Atlas Imaginarios Visuales, 2017); Contemporary Photography in Oaxaca (CONACULTA, CFMAB, Luna Zeta Ediciones, 2011), etc.




Deyanira
35 mm Printing on cotton paper hahnemühle
60 x 40 cm 2017

Motherhood was a subject that was not even questioned, it was thought as a kind of "natural order" and not a free decision. Feminism came to put the accents later on.
But in the sixties and seventies the decision of not to be a mother, was a mortal sin.

La maternidad era un tema que ni siquiera se cuestionaba, se pensaba que era una especie de "orden natural" y no una decisión libre.
El feminismo vino a poner los acentos más adelante. Pero en los sesentas y setentas esta decisión de no ser madre era pecado mortal.


Other Women, is a documentary project based on interviews and portraits of women who made the decision of not to have children and whose age range was 34 years old onwards. Finding each other has been complex in view of the fact that it is a subject that is still unseen. And there are women who do not have children for different reasons. However, I was interested in including those women who had deliberately decided not to have children and that they
became aware of what it means.
The intention has been to make visible and to show the complex reality assumed by women who have decided not to be mothers (and to decide about their own body), suffering adversities, social, family, religious pressure or various forms of discrimination.
During (2014-2021), I have been able to portray and interview in depth 18 women from diverse countries (Argentina, Chile, Brazil, Mexico, Spain, United States, France and Poland). As well as to show the socioeconomic, cultural and sexual diversity that is involved in the multiple stories and visual narratives arising from their own lifes and contexts. Each
one reveals from their images and testimonies, important aspects to understand their forms of sociality, community and to build their decision. The protagonists show their experiences and stories about childhood, loneliness, aspects of religion, social norms, care, assumed sexual identity, the right to control their own bodies, in some cases abortion, family relationships or the responsibility of independence. It has been a delicate, controversial and
difficult project to carry out, since this decision is a taboo subject and it is not easy to identify which women have taken it and under what conditions. But it is not only difficult to find them, it also takes a long process to gain their trust and collaboration, since intimate or often secret aspects are explored. Another difficulty is precisely how to visualize them, since the representation of the different processes of motherhood has been more evident.
The project and the proximity to the women gave me some answers as I progressed. For example, I understood that the decision not to become a mother does not happen at a certain moment: there is not a "decisive moment", because the decision is built in different stages.
There could not be one decisive image, but several images linked to important events and experiences in their lives, around this decision that runs through our entire existence. I understood that the visualization required several scenarios linked to those moments, so I approached some of the most significant: elements and places of their childhood, work contexts where they spend much of their lives, emotional atmospheres, spaces of everyday life as their kitchens, or the intimacy of their bedrooms, as well as decorative elements and objects where they put their meticulous creativity.
Therefore, it is a project that seeks to incite reflection; to avoid falling into the stereotype of mother or non-mother, to avoid thinking or believing that there is a dichotomous polarization that erases the nuances (All or nothing. Black and white). There is diversity between mothers and non-mothers. The important thing is that they are chosen motherhoods or non- motherhoods.
I believe that we must always defend the diversity and in that diversity, the decision not to be a mothermust be included. We must continue to fight to break down stereotypes and social mandates of how a woman should be.


Otras mujeres, es un proyecto documental que parte de las entrevistas y retratos de mujeres que han decidido no tener hijos y cuyo rango de edad fue de los 34 años en adelante. Encontrarnos entre nosotras ha sido complejo porque es un tema aún invisibilizado. Y existen mujeres que no tienen hijos por distintas razones. Sin embargo, me ha interesado incluir a aquellas que de forma deliberada lo habían decidido y que tomaron conciencia de lo que significaba.
La intención ha sido visibilizar y mostrar la compleja realidad que asumen las mujeres que han decidido no ser madres (y decidir sobre su propio cuerpo), padeciendo adversidades, presión social, familiar, religiosa o diversas formas de discriminación. Durante este tiempo (2014-2021), he podido retratar y entrevistar a profundidad a 18 mujeres de diversas procedencias (Argentina, Chile, Brasil, México, España, Estados Unidos, Francia y Polonia). Así como mostrar la diversidad socioeconómica, cultural y sexual que está implicada en las múltiples historias y narraciones visuales surgidas a partir de sus propias vidas y contextos. Cada una revela desde sus imágenes y testimonios, aspectos importantes para entender sus formas de socialidad, de comunidad y de construir su decisión.
Las protagonistas muestran sus experiencias y relatos entorno a la infancia, la soledad, aspectos sobre la religión, la norma social, los cuidados, la identidad sexual asumida, el derecho al control sobre su propio cuerpo, en algunos casos el aborto, las relaciones familiares o la responsabilidad de la independencia.
Ha sido un proyecto delicado, polémico y difícil de llevar a cabo, ya que esta decisión es un tema tabú y no es fácil identificar qué mujeres la han tomado o bajo qué condiciones. Pero no sólo es difícil hallarlas, también lleva un largo proceso lograr su confianza y colaboración, ya que se exploran aspectos íntimos o muchas veces secretos. Otra dificultad, es precisamente cómo visualizarlas, ya que ha sido más evidente la representación de los distintos procesos de la maternidad. El proyecto y la proximidad con las mujeres me fue dando algunas respuestas conforme avanzaba. Por ejemplo, entendí que la decisión de no ser madre no se da en un momento determinado: no hay ese "momento decisivo", porque la decisión se construye en diversas etapas. No podría haber una imagen decisiva, sino varias imágenes vinculadas a sucesos y experiencias importantes en sus vidas, en torno a esta decisión que atraviesa toda nuestra existencia. Comprendí que la visualización requería de diversos escenarios vinculados a esos momentos, por ello abordé algunos de los más significativos: elementos y sitios de su infancia, contextos de trabajo donde pasan gran parte de su vida, atmósferas emotivas, espacios de cotidianeidad como sus cocinas, o de intimidad como sus dormitorios, así como elementos decorativos y objetos donde ponen en juego su minuciosa creatividad.
Por ello, es un proyecto que busca incidir en la reflexión; evitar el caer en el estereotipo de la madre y no madre, evitar pensar o creer que hay una polarización dicotómica que borra los matices (Todo o nada. Blanco y negro). Hay diversidad entre las madres y las no madres. Lo importante es que sean maternidades o no maternidades elegidas. Creo que debemos siempre defender la diversidad y en esa diversidad debe incluirse: la decisión de no ser madre. Debemos seguir luchando para derrumbar los estereotipos y los mandatos sociales de cómo debe ser una mujer.





Lisa / Objetos Lisa / Objetos Lisa
Fotografía 35 mm
35 mm Printing on cotton paper hahnemühle / Impresión sobre papel algodón hahnemühle
60 x 40 cm each one
2015

It's difficult to define how one arrives at such decision; it's something so deep inside me that it's as if it had always existed. I think it has to do with my dad's story. When I was 30 years old my father committed suicide. The feeling that floats in the air within my family, I mean, my mom and I, is that my dad should not have had children


Es difícil definir como se llega a esta decisión, es algo tan adentro mío que es como si siempre hubiera existido. Creo que tiene que ver con la historia de mi papá. Cuando yo tenía 30 años mi padre se suicidó. La sensación que flota en el aire en mi familia, es decir mi mamá y yo, es que mi papá no debió haber tenido hijos.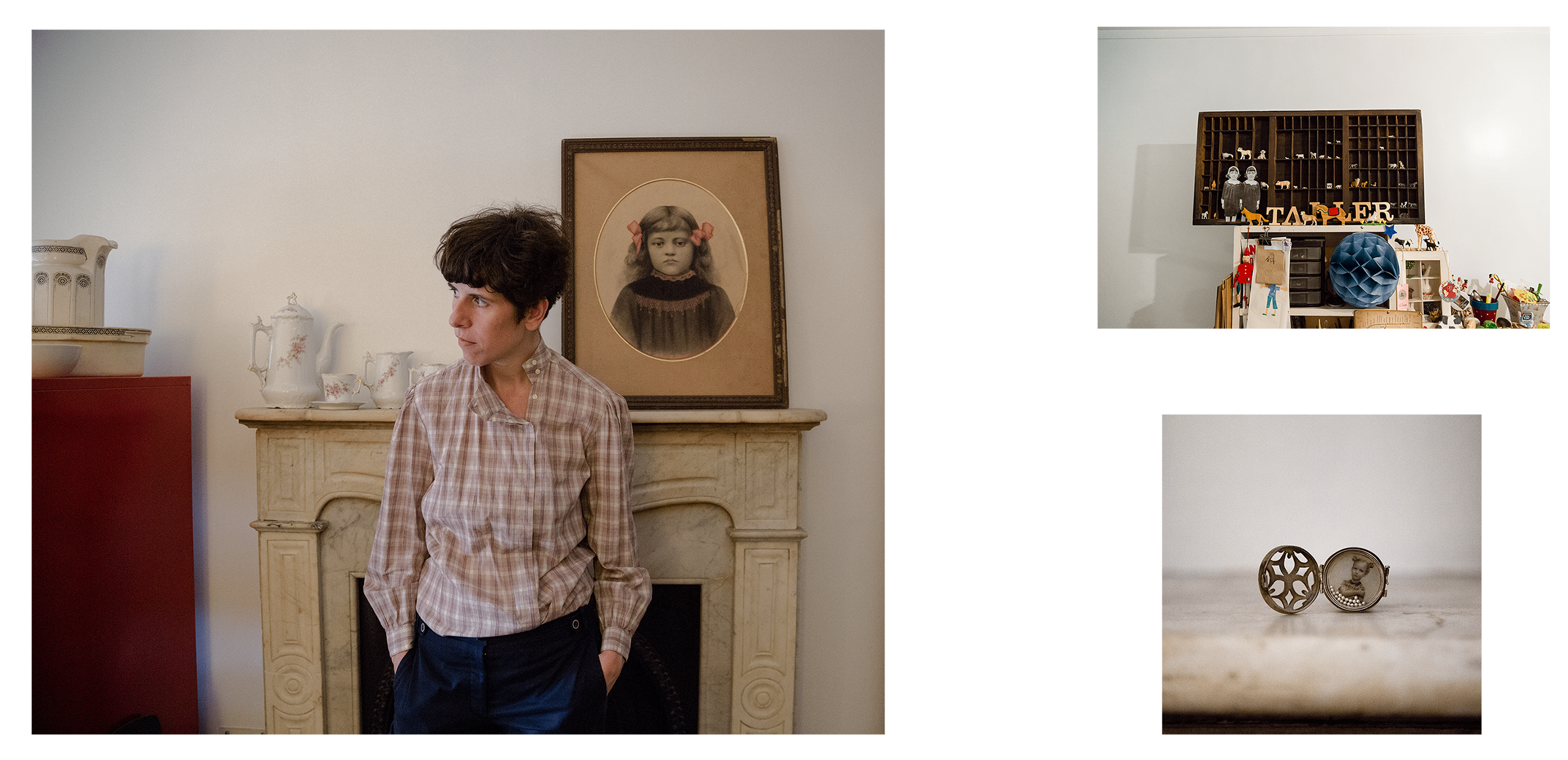 Gisela
I know that my decision has a political impact.
Sé que mi decisión tiene un impacto político.

Gisela Objetos Gisela Objetos Gisela
Fotografía 35 mm
35 mm Printing on cotton paper hahnemühle / Impresión sobre papel algodón hahnemühle
120 x 100 / 60 x 40 / 60 x 40
2015